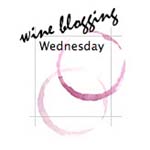 The focus for March's Wine Blogging Wednesday is grape varietals from France's Rhone Region. Lucky me, I just happened to have a couple of appropriate bottles laying around. I jumped in on last month's WBW because it was easy: I didn't have to go anywhere or reveal my relatively low knowledge of wine with inadequate tasting notes. I'm participating in this month's event because of the former and in defiance of the latter. Ready? Let's begin!

I thought immediately of my bottle of "Goats do Roam," a white blend from South Africa using Rhone varietals. Too obvious? Yeah, but I couldn't resist. Another blogger actually wrote about this wine for January's "wacky names" WBW. They describe it as light bodied and had difficulty identifying particular flavors. I wonder if we drank the same wine. My wife, no wine connoisseur, declared a definite scent of apricots. The most striking feature was an up-front taste of grapefruity tartness, which is a good thing in my book, but your mileage may vary.

I began to wonder, though, was this taste intentional? Do many Rhone whites share this feature? Hell if I know! (According to the Basic Juice review, it's "[n]othing like a white Côtes du Rhone" but I can only take their word for it). With a professional review, you'd have the benefit of a wine expert telling you what it's supposed to taste like. I personally have no basis of comparison, so I can only tell you what it did taste like. Hey, you get what you pay for.

A bottle of Goats do Roam might cost $10-15 depending on where you buy it. I grabbed two bottles on the recommendation of Dr. Vino (he reviews the red on the second page here), and I'll try this wine again.